Iconset: Olive Icons by MadScienceLabs (12 icons)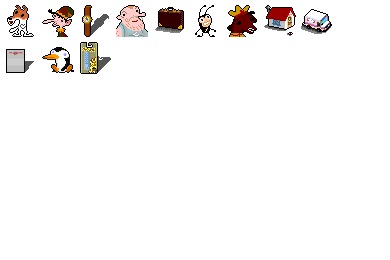 Artist:
MadScienceLabs (Mathew Halpern & How Bowers)
License:
Free for non-commercial use.
Commercial usage:
Not allowed
Readme file:
readme.txt
Words from the Artist:
If you looked at any magazines in the last 10 years, you've probably seen
the work of artist J.otto Seibold. An early adopter of the Macintosh for
creating art, his rough-hewn illustrations are as distinctive as
they are whimsical.

You can imagine my pleasure when I discovered the J.otto and his wife, Vivian
Walsh, had started creating hilarious and wonderful children's books. Not having
any children didn't stop me from becoming a fast fan of Space Monkey,
Mr. Lunch, and last year, Olive. Imagine my delight twice over to discover
that Olive was going to star in her own Fox Christmas special!

Using the book as a launching point, the hour-long special is a hip Christmas
fable for today's generation, both young and old. Produced by Simpson's
creator Matt Groening, TV's Olive is the rightful successor to the Rankin/Bass
specials Doc Halpern and I (and probably you, too) watched growing up.
Icons contained in set (12 icons)