Iconset: Hide's Monster Icons by Pixture (8 icons)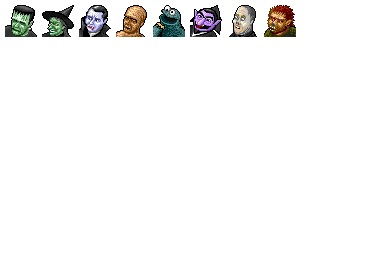 Artist:
Pixture (Hide Itoh)
License:
Free for non-commercial use.
Commercial usage:
Not allowed
Readme file:
README-WIN.txt
The products or characters depicted in these icons are
© by Sesame Workshop / Respective Copyright Owners
Words from the Artist:
It's been three months since I released the last icon set. I was into
Linux and did not have much time to spend on making icons recently.

Since the Halloween is comming soon, I created this icon set as the
second set of Hide's Haloween icons. Although I am not good at making
human (monster) icons, I guess I did a good job to make look scary
and real.

Muppet monsters are from SESAMI STREET TV program. Since the
copyright of these muppets belong to Sesami Workshop and The Jim
Henson Company, you may not use these icons for any places other
than your personal computer's desktop. They must not be used for
any web sites to protect origiral characters copyright.

I hope you enjoy these icons!
Icons contained in set (8 icons)