Iconset: Dexters Labs Icons by MadScienceLabs (12 icons)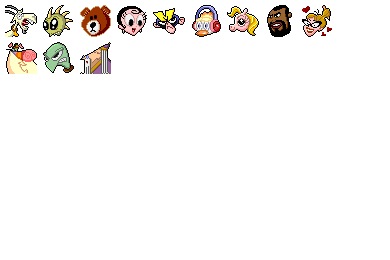 Artist:
MadScienceLabs (Mathew Halpern & How Bowers)
License:
Free for non-commercial use.
Commercial usage:
Not allowed
Readme file:
ReadMe.txt
Words from the Artist:
Thank you for downloading World of Dexter's Laboratory,
Volume 1!

Dexter's Laboratory, for those of you who don't already know, is the best
cartoon on television today, bar none. It is now in reruns weekdays at
7:30am and 7:30pm EST on Cartoon Network.

Dexter and his family are not the only characters featured on the show.
His ecosystem is filled with incredibly diverse forms of life -- neighbors,
aliens, superheroes, teachers, etc. The goal of the icon sets (and I do mean
sets) that I will be releasing in the coming months is to augment the excellent
core set Iconfactory has created for Cartoon Network. If you haven't down-
loaded them already, be sure to. Just go to www.cartoonnetwork.com and
click on "Downloadables."
Icons contained in set (12 icons)