Iconset: Browser Icons by Royalflushxx (5 icons)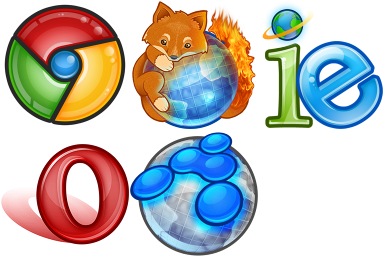 Artist:
Royalflushxx (Sam Butcher)
License:
CC Attribution-Noncommercial-No Derivate 4.0
Commercial usage:
Not allowed
Words from the Artist:
My first release of the Dimensions Iconworks. These are the 5 main browsers that are fairly popular right now (as of 2010). These include Opera, Firefox, Internet Explorer, Flock and Google Chrome. They are full color, and fully alpha-transparency enabled and run up to 256x256 on Windows Vista and 7, and have fully customized 16x16 versions of each icon.

PLEASE favorite on http://royalflushxx.deviantart.com if you download, and maybe throw me a llama badge if you're feeling groovy and such. I have worked very hard on each icon, and reworked those that did not meet my requirements of quality. All icons were made from the ground up. Please respect the creator. Since many people will download this without any regard to myself and my work, and simply forget my work without even thinking of visiting my gallery, I have put a stopper in the .zip. When prompted, simply enter the code "thankyou" and you will unzip everything correctly. If you did not take the time to read this, then what can I say? Start respecting artists and stop being leeches. We're not here to serve you.
Icons contained in set (5 icons)