Iconset: 3D Icons by La Glanz Studio (11 icons)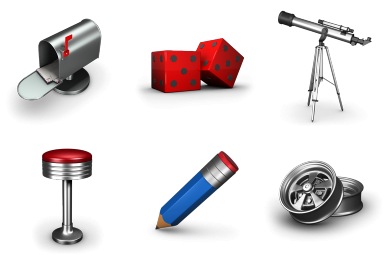 Artist:
La Glanz Studio
License:
Freeware
Commercial usage:
Allowed
Words from the Artist:
Free high quality transparent PNG images for webdesigners and developers.
All images have been created by La Glanz Studio and can be used for commercial or personal projects. No backlink is required, only if you wish to.

What is 3DLB?
3DLB is a brand new project started in April 2010 by La Glanz Studio. 3DLB stands for "3D Library", a next generation three dimensional web directory that runs right in a web browser. 3DLB is a one of a kind project that gives webmasters an absolutely new way of promoting their websites and makes web search fun and interesting. The 3D Library requires a small plug-in (about 3 MB) called Unity Web Player. The plug-in auto-installs without a browser restart, and already has a 8-digit distribution. It works on all modern browsers including Internet Explorer, Firefox, Safari, and most Mozilla-based browsers.
Icons contained in set (11 icons)